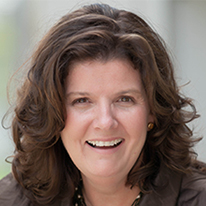 Karen Wunderlin combines her experience as an operating executive with her knowledge of group processes to help clients identify necessary change and then implement it — on a personal, team or organizational level.
Before founding The Wunderlin Company, Karen was a sales and marketing executive at General Electric. She served as marketing manager for a $3 billion business unit and managed an initiative that cut in half the time cycle for new product development. Karen also facilitated GE's WorkOut Process.
Those experiences provided the foundation for her business.
Karen and her team have worked with organizations to facilitate change, growth, and cultural development for 22 years — and she began providing leadership coaching as well in 1998. From Fortune 500® companies to small nonprofits, she has worked with organizations of all sizes and scope on three continents. This diverse experience has given Karen unparalleled insight and tools for working with organizations like yours.
Karen continues to expand her skills and experience. She is completing her Georgetown University Leadership Coaching certificate and working on her International Coach Federation (IFC) Professional Certified Coach certification. She is certified in the MBTI, Birkman and Hogan leadership assessments and the Korn-Ferry Profilor 360-Degree feedback tool. Karen received her bachelor's degree and her MBA from the University of North Carolina at Chapel Hill.
Karen's consulting experience includes:
Change leadership
Leadership Development
Team development
Targeted workshop design and facilitation
Action learning.
Recent successful projects include:
Leading implementation of GE WorkOut at a global agricultural products manufacturer
Coaching CEOs and other high-level leaders
Facilitating strategic planning processes for an advanced steel manufacturer, regional financial services organization, several liberal arts colleges and museums
Working with a new team to clarify roles, develop new work processes, and define communication strategies for the larger organization
Designing multi-day leadership development workshops for a food manufacturer, an energy monitoring company and a retail credit card business
Conducting WorkOut facilitator training and led initial WorkOut meetings from design to implementation for an oil company, an energy products business and a leading credit agency
You can connect with Karen at kw@wunderlin.com.