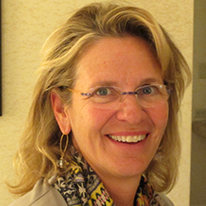 Merrell Grant has a track record delivering results, driving change and working collaboratively across organizations to create growth-oriented teams.
She brings more than 30 years of experience leading teams in high-performance advertising, marketing and sales organizations. Her diverse background includes brand development, new product introduction, customer segmentation and channel distribution.
As a coach, Merrell has helped individuals see the possibilities for their success, reach their potential and accomplish their leadership goals. She is committed to continuously enriching her own skills to support individuals as they become more self-aware, explore different points of view, and develop their unique leadership styles.
During two decades at GE, Merrell held leadership positions in marketing, advertising, product management and sales. Most recently, Merrell served as general manager for GE Monogram, the ultra-high-end appliance segment, where she led all aspects of the business — from strategy and product development to customer training and web marketing.
She began her GE career in advertising and marketing communications for the GE, Profile, and Monogram appliance brands. As general manager for the GE Answer Center, she helped it dramatically improve the consumer experience and productivity. She led the sales team for one of the largest customers for GE Appliances, including developing and executing an OEM strategy.
Before her career at GE, Merrell's experience spanned several business-to-consumer industries, including Gannett Direct Marketing, Chi-Chi's Mexican Restaurants, Humana, and Storer Cable (now Comcast).
Merrell received her BA in English from the University of Virginia and her MBA from Bellarmine University. She is certified as a Six Sigma Green Belt, trained as a GE WorkOut Facilitator, and graduated from GE's executive leadership courses in Management Development and Business Management. In addition, she is certified in the Birkman assessment tool and Presence Based Coaching.
Connect with Merrell to learn more about how she can add value to your organization.