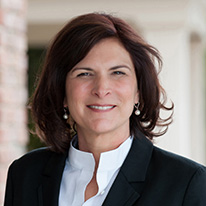 Michelle Naiser brings more than 25 years experience in management and senior staff consulting in IT, finance, human-resources and organizational development.
Her uniquely varied background makes her a sought-after thought partner and change-management collaborator/consultant/coach to individuals, teams and leaders in large organizations.
Before launching her consulting practice, Michelle was Director of Organizational Development for Brown-Forman Corporation. In that enterprise-wide role, she was responsible for performance management, coaching, mentoring, career-management training and a wide array of organization-development interventions including facilitation, training, team-building and behavioral assessments. She also lent her strategic thinking and expert facilitation skills to marketing teams as a designer of strategy and ideation workshops.
Michelle divides her consulting practice between executive coaching and leading clients in design of strategic solutions to organization-development challenges.
Michelle received an MBA and an MS in Leadership and Organizational Development from the University of Louisville. And she is an alumnus of the Darden Executive Partnership Program and Center for Creative Leadership's Strategic Leadership Program. She holds certificates in Mediation, Mastery Works Career Management (Trainer), MBTI, Prosci Change Management and Predictive Index.
Michelle also attended coach training at New Ventures West and completed the Leadership Coaching Program at Georgetown University's Center for Transformational Leadership. Michelle has also obtained Associate Coach Certification from the International Coach Federation.
Connect with Michelle to learn more about how she can add value to your organization.