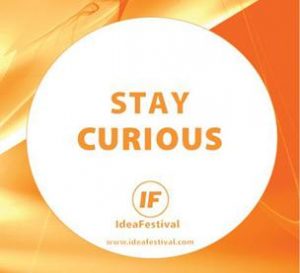 Why we need to fail, how entertainers surprise us, and lessons from biology
I am an inveterate note-taker: It helps me remember what I've heard – and ensures the chance to reread and re-visit the experience.
If you were at last week's Idea Festival, you might have seen me madly tapping notes on my iPad – some as long as a page or two and some tweets like these:
"Nothing in nature is box-shaped but that is how we continue to design buildings…cars and planes have evolved but buildings have not." (Lance Hosey)
"Many of science's heroes were amateurs, self funded and/or uneducated — Darwin and Edison." (Ariel Waldman)
"We went seamlessly from slavery to the prison system." (Paul Rucker) 
"Urban gardening linked to better senior health, better school performance, less crime." (Daphne Miller)
"The book 'Age of Innocence' hasn't changed a word, but you have since age 16… and the book can be a prism for viewing that change." (Kevin Smokler)
So, for folks who couldn't attend, it seemed like fun to share some favorite sessions from Idea Festival 2013. Think of it as a 10-minute taste of the delicious smorgasbord of ideas.
You can also learn more at the festival's website, where links and video clips are posted for speakers. The website Insider Louisville – a big fan of IF – also posted stories on a number of speakers.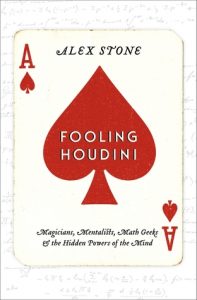 "Fooling Houdini" by Alex Stone, magician and author:  Have you ever wondered about the psychology of magic? Magicians can fool most of us because we don't observe our surroundings with care – Stone uses the term "inattentional blindness."
"The hardest people to fool are children. They are good at noticing many things. Their attention is scattered.  They don't carry the scaffolding of assumptions that adults do."
One of the secrets of magic: Our mind lags behind reality by a discreet amount, making us easy to deceive.
I loved this comment: Fool you once, it's a surprise. Fool you again, it's a lesson.
Stone's integration of neural science and magic caused me to reflect on how inexact our observations are and how much of our data is really our impressions.
"Comedy as Translation" by Chris Bliss, writer, comedian and juggler:  His view of comedy is about human connections: your material, your audience. "Make sure you give a damn about the people who show up."
Bliss described his process and his lessons learned for being a good comedian, and those lessons are a perfect model for general human effectiveness:
Carefully examine your premise
Master your content
Care about the people you are working with
It's a human transaction that makes him want to connect with his audience and give them pleasure. If it flops, it flops. "Failure is only information.  If you get past the embarrassment, you will get to the information and you will get the last laugh."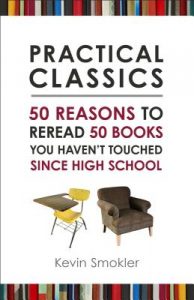 "50 Reasons to Re-read 50 Books You Haven't Touched Since High School" by  Kevin Smokler author and blogger: Almost all of us remember groaning over classic literature in school…only to recognize as more mature readers that some of those books were actually terrific.
Reflecting on his own experience, Smokler decided to assemble a guide to unappreciated books called "Practical Classics" – with titles that range from "Candide" to "Huckleberry Finn."
"When you read great books they are sentinels, " he says, they mark your sensibilities at that time. Reread them and it's an exercise in self-discovery.
"The Age of Innocence" hasn't changed a word, but you have since you were 16 and the book can be a prism for viewing that change."
Among current authors he predicts will become classics: Michael Chabon, Amy Tan, Phillip Roth, Margaret Atwood, Isabel Allende. Smokler reminded all of us that in putting together our favorite reading lists, it can sometimes be very useful just to raid our children's bookshelves!
"Learning from the Octopus: Unleashing Nature's Secrets of Adaptation," Rafe Sagarin, marine ecologist, congressional advisor and author: Rafe's session was probably my favorite of the festival.  His observations about how natural systems work and what humans can gain by operating more like open systems in nature were compelling.
His main point: Humans can learn from nature how to adapt to life's unpredictability and security challenges.
After 9/11 and its "ecology of fear" that brought more security and barriers to our communities every day, he began to reflect on the natural world's lessons for our society: Natural organisms don't plan, predict or try to be perfect… but they adapt to solve problems in their environment.
The key: to observe, respond, communicate, expand, try again. The inherent challenge is a better motivator than someone telling you what to do.
Biology offers an enormous sample size: Nature faces the same problems we do, but it has been thriving for 3.5 billion years.
Ways for companies to reduce risk can range from using one kind of airplane like Southwest to running multiple advertising campaigns at the same time like Geico. 3M didn't go top-down to get green: It challenged staff to reduce its environmental footprint.
"The most adaptable organisms learn from success – a creative feedback process. Learning from failure is an evolutionary dead-end."
To keep up with him, two websites: www.adaptablesolutions.org and www.rafesagarin.com
"Sustainable Beauty: How Good Design Benefits People, Planet and Profit" by Lance Hosey, global green design leader: The author of "The Shape of Green," Hosey argues that we don't have to trade beauty for efficiency. It's a matter of commitment to integrate form, function, beauty and sustainability.
The truth is that natural imagery and certain colors and shapes have a provable more positive impact – from the color green to golden rectangles in the proportion of roughly 5-by-8 – as he wrote in a recent New York Times essay. Among the pictures he shared at IF:  an image of an organically shaped bone chair by Joris Laarman.
Be inspired by natural shapes, he urges: Cars need to look like dolphins not SUVs. For good reasons, a Japanese bullet train was inspired by kingfisher beak. Even our buildings can evolve with shapes more organic and calming natural than simple boxes.
And Hosey reiterated the point made in an early IF session that being in nature and looking at nature reduces stress.
"The Hacker's Guide to the Galaxy" by Ariel Waldman, founder of Spacehack.org, a directory of ways to participate in space exploration, advocates more accessible paths into science for people of all ages – like science hack days in schools and communities.  Many of science's heroes were amateurs, self-funded and uneducated or both, she said, mentioning Darwin and Edison.
She quoted the journalist and radio pioneer John Peel: "At the heart of anything good there should be a kernel of something undefinable, and if you can define it, or claim to be able to define it, then, in a sense, you've missed the point."
Waldman got hooked on space as a young adult and talked her way into a job at NASA without a scientific or technical degree.  Her pursuit of her lifelong passion was both amusing and deeply inspirational.
"The Next Industrial Revolution" by Beth Comstock, Chief Marketing Officer at GE with a career in innovation, reflected on the transformation in how things are made. On one hand, history shows fewer "Eureka!" moments than you might expect for many inventions like the light bulb – but rather years of tinkering and improving that eventually lead to mass production.
In the past, she said, ideas "spread at a virtual crawl."
Looking ahead, she sees a period of accelerated change: "What we have seen change is nothing compared to what we are going to see."  The merger of hardware and software, the increasing sophistication of 3-D printing and advanced manufacturing will bring changes we can only imagine – like creating custom pieces at huge cost savings for jet plane engines.
The same engines can also send automatic status updates to assure they are running more safely and efficiently – she describes the data stream as a new "industrial internet."
New ideas will arise from new social-and-practical convergences – like crowd-sourcing challenges ("Match.com for ideas") and hack-a-thons.
One challenge is the right combination of intelligence, imagination and technical knowledge to power our work force.
GrabCAD partnered with GE to do an open crowd-sourcing challenge around redesigning a new lighter bracket for a jet engine. Not all of the competitors were engineers; some were Lego enthusiasts.  For a profile of Comstock, click here.
"Art at the Intersection of Architecture and Performance Art" by Raphael Lozano-Hemmer, a Mexican-Canadian artist, showed interactive installations that combine complex technologies like robotics, computerized surveillance, telematic networks and animatronics.  Lozano-Hemmer's insanely creative way of thinking about how to create human connections made his hour at the festival fly by.  I spent another hour that evening just viewing YouTube videos of his installations and narrations at his website. I can highly recommend that as another hour well spent!
His works invite people to get involved. Shadow play may beckon. Your heartbeat may set off a field of lights.  Chairs respond as you walk by.
A New York City "Voice Tunnel"
An Australian "Solar Equation"
"Art @ the Edge Creative" showcased four artists supported by Creative Capital, a new foundation headed by Ruby Lerner that provides venture capital-like support for artists.
Click here and below for some images of their work, and view it as part of a trend of barriers between artistic fields breaking down, artists crossing disciplines and collaborating.
What I learned from these folks was the value of thinking really broadly and inclusively about what is possible and what is connected.  Paul Rucker's indelibly moving work makes clear a pathway in the U.S. from a time of slavery to a time of prison incarceration.  Eric Dyer's "Copenhagen Cycles" is a mesmerizing collage of images that explores movement with humor.  Elaine Tin Nyo is following the lifecycle of five pigs around the world – a work, she said, that will "start off as a baby book and end as a cookbook!"
"Rome: The Fall of an Empire and the Fate of America" by Cullen Murphy, editor at-large of Vanity Fair, compares the decline of the Roman empire to the global situation facing the United States today. And he suggests strategies to accommodate the negative emotions that are inevitable in life:
Focus on the worst-case scenario. If it happens, you are ready. If not, you can experience genuine gratitude and that can be an antidote to anxiety.  
Develop a detached way of relating to your thoughts and emotions – be a witness to them as if you were observing clouds going by in the sky or seeing a storm on a mountain.
"Happiness….for People Who Can't Stand Positive Thinking" by Oliver Burkeman,  writer and commentator, argues that our culture is too fixated on being positive and being happy – when in fact less-positive experiences could be a better pathway to a sustainable life.
The over-pursuit of a goal illustrates a common mistake: When you try too hard to control outcomes and avoid certain feelings you often bring about what you were trying to avoid.
It helps to live with uncertainty – and do the best you can with it.
If I came away from the Idea Festival with one big thought it is this: Across disciplines from art to architecture, from education to business, the speed of change is accelerating.
And the answer to how we manage change is with these strategies: a new level of collaboration, nurturing our connections to nature – and embracing our humanity… from art and music to film and food.