Chart your own course in a fast-changing landscape
When I went to college in the seventies, most women I knew still expected to marry shortly after graduation. Many of my friends majored in nursing and teaching, the most common careers for women. When I graduated from business school, instead of luggage and a brief case, I got a sewing machine and a vacuum cleaner!
But as we were finishing school, our world began to change. Friends switched their majors to accounting and business or began planning to go to law school or med school.
As we began our careers in the late '70s and early '80s, many of us found rich work lives as CEOs, CIOs, GMs, senior partners, business owners, public-sector leaders – and much more.
We have worked – and raised children, in many cases – in times of whiplash-fast social change.
My friends like to reminisce about the old days– while taking stock of what we have learned along the way.
Today, as we find ourselves in the midst of new conversations about the world of work, most of our lessons are relevant to both women and men.
Mad Men? We lived it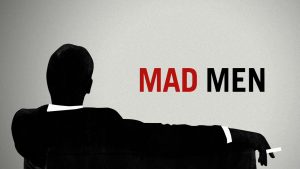 When the TV series Mad Men, set in the ad agency world of the '60s, became a hit, many women I know didn't know whether to laugh or cry at its depictions of women.
Many of us have personal stories of behavior in yesterday's workplace – with a humorous twist, in most cases–that would be unimaginable today.
In the mid-80's I was on a team at GE that spent significant time in Japan and Korea. My first trip there, I asked one of our Asian hosts to point me in the direction of a restroom. Following his directions, I unknowingly walked in on all my male teammates.
As the project progressed, we developed strong bonds with our Asian counterparts. On my final visit to Japan as part of the team, we held a dinner, followed by a visit to our Japanese host's club.
After several rounds of Scotch, this fellow with whom I had spent so much time finally asked a question that had clearly been on his mind all along: "Why does your husband allow you to do this?"
I was not alone: A former manager of a firm specializing in corporate design and relocation tells the story of a phone call she thought was a formality to closing a deal to design a series of child-care centers.
Working from home the day of the call, she failed to notice that the family parrot was mimicking voices in the background.
That is, until the would-be client abruptly ended the call, telling her he would not consider doing business with a woman who left a child crying in the background during the whole conversation.
Her explanation that the sounds were a parrot, and that her youngest child was a college student, did nothing to counter his position that in the South, families were revered, and he would not trust the design of his facilities to such an unfeeling "professional" woman.
One of the ways most women have succeeded is by appreciating the humor in situations.
A former auditor mused that a controller once asked her directly why a "gal like you is in a job like this and not home having babies." The same man had the documents needed for the audit stored in boxes in the men's room.
Of course, she ventured in anyway, reviewing the documents and stepping out any time someone came in to use the facility. (That controller, by the way, ended up being convicted of embezzlement, giving her one more reason to trust her instincts.)
Other stories aren't really tinged with humor, but rather will make you cringe.
A long-time IT and HR executive recalled that she was promoted to management when she was 8½ months pregnant, but was told that her boss's boss at the New York headquarters of the company wanted to hold off on her raise until she returned from maternity leave – they didn't really believe she would come back. Fortunately, her boss stood firm, saying she had earned the promotion and the raise that accompanied it.
A journalist friend remembers sitting in editorial meetings where men made comments about the physical attributes of actresses and female sports figures.  But when a study of their newsroom's salaries showed women were earning substantially less than men in the same jobs, management quickly followed up and equalized pay based on experience and merit.
When Everything Changed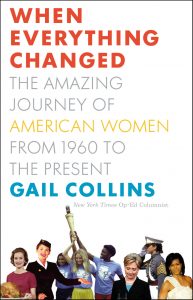 Gail Collins' 2009 book, When Everything Changed: The Amazing Journey of American Women from 1960 to the Present, tells the story of our move from a society in 1960 where most young women grew up never seeing a woman doctor, lawyer, or engineer, and where most had to have their husband's permission to get a credit card, through the 2008 Presidential campaign of Hillary Clinton. The book is full of astonishing facts and stories of the early years:
A young woman was thrown out of court in 1960 by a judge because she was wearing pants.
A medical school dean in 1961 candidly said of women, "We don't want them here."
A NASA spokesman said "Talk of an American space woman makes me sick to my stomach."
The Boston Marathon was men only, because it was "unhealthy for women to run long distances."
A report on women in management by Harvard Business Review in the 1960s noted that there were so few women in higher echelons that "there is scarcely anything to study."
Yenisse Alonso and Vickie Brint, in their essay "Women in the Workplace," describe the avalanche of social and economic changes that enabled more women to attend college in the '60s, increasing their job opportunities.
And Nancy Gibbs, Time magazine's editor-at-large and author of Time's 2009 special report, "The State of the American Woman," attributes change to a "quiet revolution" fueled in part by birth control, the civil-rights movement, and a changing economy.
A couple years ago, NBC News legal analyst Dan Abrams wrote a light-hearted-but-compelling little book entitled Man Down: Proof Beyond a Reasonable Doubt That Women Are Better Cops, Drivers, Gamblers, Spies, World Leaders, Beer Tasters, Hedge Fund Managers, and Just About Everything Else.
Using empirical evidence and a good dose of humor, Abrams makes the case that polls and scientific studies have demonstrated that women have better memories, vote in higher percentages, are better at using social media, are less corrupt in politics, are better at navigating a tough economy, and are even better beer-tasters.
How far we've come
Fifty years after a wholesale move of women into the work force, many people believe that all issues of gender equity are behind us.
In truth, women are still chiseling away at the glass ceiling. As one friend put it, the cracks are bigger, but the ceiling is still there.
The number of women in the workforce has risen — from about 1 in 5 in 1960 to 2 out of 3 today.  Forty percent of employed women work in management and professional roles. The top job categories for women are secretaries and administrative assistants, registered nurses and teachers.
Pay equity remains an issue. The median weekly salary in 2013 for fulltime working women is roughly $670 compared to $825 for men, according to the U.S. Department of Labor statistics. By another measure, women earned 77 cents for every dollar earned by men, up from 61 cents in 1960.
And progress to the very top has remained slow. Women earn 60 percent of all master's degrees and more than half of all doctoral and professional degrees. Yet only 21 of Fortune 500 companies have females in their top job – 4.2 percent (note: up to 27/500 as of January 2018, good for 5.4%).
What's good for women… may be good for all
Competing priorities at work and home remain an issue for women, but a consensus is developing that what women want and need in the workforce can be beneficial to men and to employers, as well.
The conversation has been heating up in what some call "second-generation gender-gap issues."
A recent MIT study found progress for women faculty – and new policies that benefit all staff. After the arrival of a child, the university provides a yearlong pause in the tenure clock, and everyone – male and female – gets a term-long leave. There are child-care services on campus and subsidies for childcare while traveling on business.
Sheryl Sandberg, the Facebook COO whose best-seller urged women to "Lean In" at work with their foot on the gas pedal, has ignited a movement that inspired some women – including creation of supportive networks in workplaces and communities. Sandberg's TED talk provides a lively summary of her perspective.
And it's led others to talk about social change needed beyond the effort of individual women and families. One of the best is the Atlantic magazine cover story "Why Women Still Can't Have It All" by Anne Marie Slaughter, the Princeton professor and dean and former State Department official who has been named the head of the New America Foundation.
A new Harvard Business Review article  Women Rising: The Unseen Barriers, describes "second-generation gender bias" that leads to underperformance in pay and position, and suggests a number of solutions. Its authors: Herminia Ibarra at Insead. Robin Ely at Harvard Business School, and Deborah Kolb, of Simmons School of Management and a principal at Negotiating Women.
Our lessons learned
When my old friends and longtime colleagues look back on our experiences, we often reflect on our most important lessons learned.
Focus on what you do well. Your individuality is your best asset. And trust your instincts – they are a major part of who you are.
Listen for hints and take advice. It may not come gift-wrapped or with a big headline, "This can change your life." Be attentive to the ideas of those you respect at work.
Be able to understand and articulate how your initiatives and skills align with the vision of the organization.
Document and share your accomplishments and those of the people you lead.  Don't assume that specific roles and contributions are understood by managers at a higher level.
Act confident until you are.
One thing is certain: Individuals, families and businesses all benefits when the talents of women and men alike are fully utilized, and when employees are able to work with their employers on finding a balance enriched by everyone's strengths.
You go girl – and guys, too.